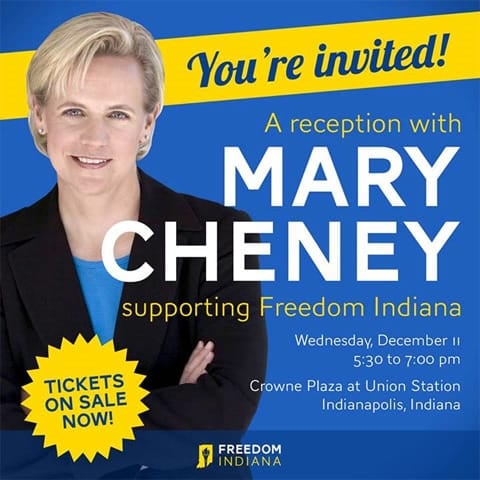 Mary Cheney is hosting a fundraiser to fight the proposed amendment to ban gay marriage in Indiana.
Said an email sent out by Freedom Indiana:
"Freedom means freedom for everyone. For me, that's not just another saying. It's who I am — the core of what I believe. No one should be denied the fundamental liberties we all deserve. Speaking out against HJR-6 isn't a matter of politics. It's about family. It's about everyone feeling welcome in the state they call home. There's nothing I wouldn't do to protect my wife Heather and our two children. And then I think about the thousands of same-sex couples and their families in Indiana who would be directly impacted by HJR-6, I'm committed to standing together and working across party lines to keep this amendment out of Indiana's constitution. Freedom Indiana's campaign is strong. And as the start of the legislative session quickly approaches, we can make it even stronger by pitching in to support the grassroots work across the state. Join me in Indianapolis on Wednesday, December 11th as we raise crucial funds and resources to protect Indiana's constitution. Click here to get your ticket now. Thanks for everything you're doing to stop HJR-6. See you soon, Mary Cheney."
Politico notes that the "freedom for everyone" line is a veiled shot at Liz:
The "freedom for everyone" line mimicked by Liz Cheney's remark regarding gay marriage in 2009 that "freedom means freedom for everybody." (She also said at the time that gay nuptials should be a state-to-state issue.) During her Senate campaign in Wyoming, Liz Cheney been vocal about her opposition to gay marriage, opening a very public rift with her sister.