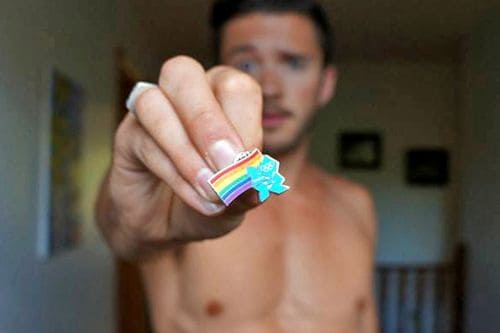 Though he is still waiting to find out if his trial times will qualify him for the 2014 Winter Olympics in Sochi, Blake Skjellerup already has big plans for the games. The openly gay speed skater has said that, despite the consequences it may incur, he will wear a rainbow pin while competing in Russia as previously announced. The pin (noted by Stephen Colbert last night) is a show of solidarity and support for the oppressed LGBT population there, and acts as a pointed message to President Vladimir Putin. Russia's anti-gay propaganda laws have been devastating for LGBT folks thus far, and the extent of the laws' reach under the global gaze of millions during the Olympics is still unknown. One thing's for sure: that rainbow pin will be a bold personal, and global, statement.
The Guardian reports:
"I will be myself in Russia," [Skjellerup] says. "And at the moment that is illegal. My goal is to inspire, encourage and offer support to LGBT [lesbian, gay, bisexual and transgender] people in Russia.
"I would love for Putin to get to know me. I would tell him how much I disagree with his oppressive anti-gay propaganda laws, and that he has a responsibility as the president of Russia to represent all the people of his country."
Last week, while competing in Kolomna in Russia, Skjellerup arranged a secret meeting with gay activists to find out how bad things are in the country. While reluctant to give too much information in case it identifies those people he spoke to, he admits the stories he heard "chilled him".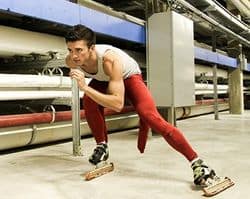 Skjellerup was able to connect his own experience as a put-upon, closeted teenager in New Zealand with the intense pain LGBT youth must be feeling throughout Russia. 
"School was never very fun," he adds. "I'm not a religious person but I would go home and pray that I would wake up and I would not be gay. Why would I do that? I wanted it to go away. But it wasn't going anywhere and it was never going anywhere. It's who I am. I didn't come out publicly until after Vancouver in 2010. And since then I have been the happiest I have ever been."
Though Vancouver might have been the push he needed, Sochi is a whole different ball game. Skjellerup has said that while he disagrees with the Olympics taking place in a country with a human rights record as poor as this, he also believes that there is power in uniting against that record.
"…Sochi gives us an opportunity to highlight Russia's anti-gay propaganda laws and say: this is wrong. Don't underestimate how powerful that could be."
Skjellerup, should he qualify, plans on selling rainbow pins to support his training and eventual trip to the games–stay tuned for the announcement!