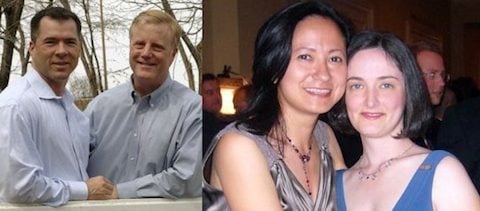 In 2005 Texas passed an amendment to the state constitution enshrining heterosexual couples as the only legally-recognized form of marriage for the state. Now, with over a dozen states and the District of Columbia recognizing marriage between same-sex couples, Texas is receiving pushback.
Arguments begin as early as January in San Antonio challenging Texas' gay marriage ban on behalf of two couples: Cleopatra De Leon and Nicole Dimetman, two women who live in Austin and were married in Massachusetts, and Victor Holmes and Mark Phariss, two men who were denied a marriage license when they applied last month in San Antonio.
Attorney Daniel McNeel Lane, who counsels both couples, is claiming that the state ban runs counter to the U.S. Constitution and,
Just as the judicial branch protected the fundamental right to marry and established that discriminatory laws could not prevent mixed-race couples from exercising that right, the courts again must step in to protect the marriage right.
State Republicans are naturally defending the law, and Texas Attorney General Greg Abbott, who will be running for governor next year, will be one of the primary defendants in the case.