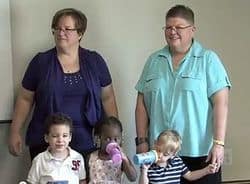 April DeBoer and Jayne Rowse, the Michigan couple who set out to challenge the state's ban on gay adoption and ended up with a full-fledged fight against its same-sex marriage ban, have filed a motion to split their impending trial into two distinct parts.
The first would relate specifically to the gay marriage and adoption bans (and their constitutionality) while the second would focus on judicial scrutiny levels for laws classifying citizens on the basis of sexual orientation. As previously reported, the formal trial will begin on February 25th, 2014, but should the motion be accepted and the first part of the trial prove victorious for DeBoer and Rowse, the second part may not be necessary.
Equality on Trial reports:
The new filing requests the judge to hear the legal issues in two parts: the first part would consist of presentation of evidence related to the constitutionality of same-sex marriage and adoption, including trying the rational bases for the ban and other issues. The second phase would consist of trying issues related to the level of judicial scrutiny required for laws that classify people on the basis of sexual orientation. The plaintiffs believe that a heightened level of judicial scrutiny should be applied, based on the four factors commonly associated with heightened scrutiny. The defendants believe the most lenient rational basis review applies. The level of scrutiny applied in the case could be meaningful to the end result, or it could end up being irrelevant, so the request suggests that the second part "of the trial would proceed only if the Court determines that further proceedings are necessary or appropriate" after the first part concludes.