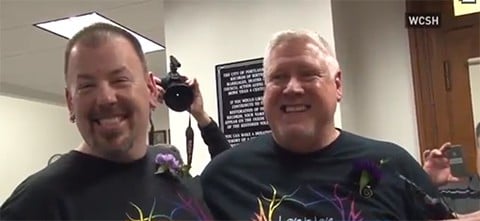 Since Maine legalized same-sex marriage last year by a voter referendum known as "Question 1," joining Maryland and Washington to become the first states to allow gay couples to marry by way of ballot measure, over 1,500 same-sex couples in the state have been wed, according to the AP:
Ian Grady, of EqualityMaine, which led the referendum drive in Maine, said the process of recognizing same-sex marriages is speeding up nationwide. None of potential problems cited by gay marriage opponents — teaching same-sex marriage in schools, churches being forced to perform ceremonies — have come to bear, Grady said.
Meanwhile, it's been fun to see a variety of couples wed over the past year, he said. There have been large weddings with hundreds of guests, while other couples have opted for low-key events. Some couples had to wait decades for the right to get married, while other younger couples didn't have to wait long at all.
"What they all had in common was that they were incredibly joyful occasions," Grady said.

Meanwhile, opponents of same-sex marriage in the Pine Tree State, continue to argue that gay marriage will infringe upon individuals' religious liberties and cause trouble for wedding cake makers, photographers and other such wedding vendors who object to gay marriage and decline to work with gay couples. Carroll Conley, of The Christian Civic League of Main, a primary opponent of the referendum that ultimately won out, said,
"When we look across the country, this is definitely not a live-and-let-live proposition. The whole argument was about equality and we said during our campaign that we thought there would be people who'd find themselves in the crosshairs of the redefinition of marriage."
The 1,530 same-sex couples that married make up approximately 16 percent of all couples who said "I do" in Maine last year. Steven Bridges and Michael Snell (pictured above) were the first same-sex couple to get married after the referendum passed. As the fanfare has died down, the couple, who has been together for ten years, reflected on their historic union:
"We weren't looking anything special. We were just looking for the same thing that was afforded to everyone else through marriage," Snell said…
One of these days, what the couple did won't be unusual, Bridges said.
"With so many other states passing same-sex marriage laws, it's going to be normal. That's what we always wanted. We didn't want a gay wedding. We just wanted a wedding," he said.