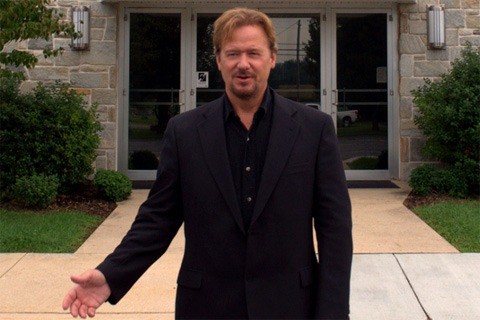 Reverend Dean Snyder, a senior pastor of Foundry United Methodist Church — a Washington D.C. church commonly visited by sitting presidents — has told USA Today that Methodist Bishops should call a special General Conference to address the church's policies regarding same-sex weddings instead of waiting until the church's 2016 General Conference.
Snyder said, "Some of us believe this issue is critical enough to do that. There's more and more pressure from one side to enforce the rules and more and more pressure from the other side that thinks the rules are unjust and unloving…"
Snyder's comments came in regards to Frank Schaefer (pictured above), a former pastor who was recently defrocked for officiating his son's same-sex wedding in 2007. Currently, four other Presbyterian pastors are facing church trials for officiating same-sex weddings as well.
"…these trials are about enforcing obedience to just some of the rules of the church," [Snyder] said. "That draconian effort to force obedience to selected rules leaves a bad taste in people's mouths. Trials are counterproductive and we have to find other ways to negotiate our differences."
The denomination, the nation's second-largest Protestant group, accepts gay and lesbian members, but its Book of Discipline calls the practice of homosexuality "incompatible with Christian teaching" and bars clergy from performing same-sex unions.
Concurrently, Southern Californian Bishop Minerva Carcano invited Schaefer to join the church's California-Pacific Conference where he could continue serving the church, although not in a pastorial capacity. Also late last week, New Jersey area Bishop John Schol released a video asking the church to stop using trials to settle questions of faith and telling gays and lesbians that many Methodists support same-sex marriage. These trends could portend an approaching schism between pro and anti-gay Methodist church leaders.
Earlier this year, the US Presbyterian church experienced a schism over its decision not to ordain gay and lesbian ministers. Similarly in 2010, the Episcopalian and Anglican churches narrowly avoided a schism over the Episcopal church's ordination of gay clergy.
Snyder himself has officiated at least a dozen same-sex weddings and yet the Methodist church hasn't prosecuted him yet. One wonders why.