Despite some discussion that they would be canceled because of threats he might speak out, Elton John's concerts in Russia tonight and tomorrow will go on as planned, according to the Hollywood Reporter: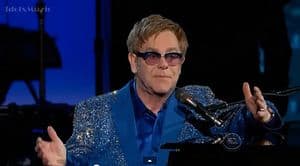 "Contrary to groundless rumors disseminated over the Internet and in the media about possible cancelation of Elton John's performances in Russia, the promoter confirms that Elton John's shows in Moscow on Dec. 6 at Crocus City Hall and in Kazan on Dec. 7 at Tatneft Arena are to be held as scheduled," SAV Entertainment, which is organizing the gigs, said on its web site…
…Meanwhile, SAV Entertainment also denied The Times' claims about John's extravagant tour rider, or set of requests or demands, which allegedly included a miniature forest with live birds and diamond-adorned cutlery. The report "is false and discredits the artist's image," the promoter said.
Elton has said he would not boycott the country because he needed to go to support the LGBT community there:
"I'm supposed to be going to Moscow in December.I've got to go. And I've got to think about what I'm going to say very carefully. There's two avenues of thought: do you stop everyone going, ban all the artists coming in from Russia? But then you're really leaving the men and women who are gay and suffering under the anti-gay laws in an isolated situation. As a gay man, I can't leave those people on their own without going over there and supporting them. I don't know what's going to happen, but I've got to go."
He later said he would not speak out against the government from his stage:
You don't just go in there with guns blazing and say, 'Well, to hell with you.' Because they're going to say, 'To hell with you, and get out of the country.' That's not going to solve anything. But if I can go there, maybe I can talk to some people in the administration.
We'll soon know which of those promises he intends to keep, and how he'll do it.