The LA Times provides a glimpse into the next round of marriage equality battles.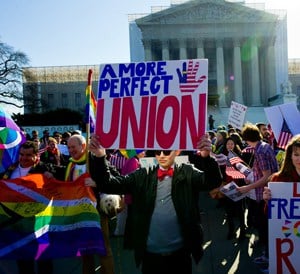 Its takeaway on the situation until now: although anti-gay conservatives in the late 90s whined about "activist judges" forcing gay marriage onto states whose citizens didn't necessarily want it, that narrative has largely changed — especially as 11 of 17 states with legalized same-sex marriage got it through elected legislatures and ballot measures. The LA Times says these non-court victories "are robust reflections of public acceptance" and "less susceptible to resentment and challenge."
However, the paper predicts that the next round of marriage battles will likely return to the courts. Their proof? The Civil Rights Movement:
…in truth, the road to civil rights historically has involved a mix of approaches — popular opinion, lawmaking and court ruling — each affecting the others. The repeal of state laws against interracial marriage, for instance, followed this path, with a combination of judicial rulings and voluntary state repeals in the late 1940s and beyond until, in 1964, the U.S. Supreme Court overturned such laws in the 16 states that still had them. Some of the state decisions to repeal discriminatory marriage laws took place when a majority of Americans still favored such restrictions. But increased recognition of these rights by both legislatures and courts led to increased public support by the early 1960s.
It has been the same with gay marriage so far. The first state to recognize it — Massachusetts — was required to do so by a court ruling in November 2003, at a time when polls showed it would not have been approved by popular vote. Ten years later, a new poll found that Massachusetts voters had now changed their minds. Most of them believed the law had had no negative effects on the state, and 60% favored recognition of same-sex marriage…
Now, the fight for same-sex marriage is entering a new phase. The low-hanging fruit — states without strong laws banning gay marriage and with more progressive populations — is pretty much picked and the new battles will be in stiffly resistant territory. In 32 states, same-sex marriage is banned by a combination of laws and constitutional amendments, which means change is less likely to come via popular or legislative votes. Courts will play a bigger role.
An interesting development that piece didn't hit on was the role of pro-LGBT county clerks who issue same-sex marriage licenses in states with marriage bans. Clerks in Michigan, New Mexico and Pennsylvania have all done this — could this be a new tactic forcing state Supreme Courts to rule on the constitutionality of state marriage amendments more quickly than in the past?