Last week, Mary Cheney hosted a fundraiser in Indianapolis to help fight the proposed amendment to constitutionally ban gay marriage in Indiana. Indystar reports: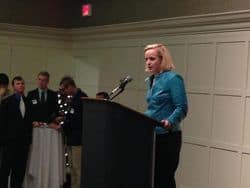 On Wednesday night, she played up her conservative bona fides before a group of about 100 supporters before laying out her opposition to the amendment.
"Now, this may come as a shock to some of you, but I'm pretty conservative. Actually, I'm really conservative," she deadpanned.
During her brief comments, she said gay couples raising children – such as Cheney and her wife, who have two daughters – have become increasingly common and urged lawmakers not bar that from happening in Indiana
"As a conservative, I also believe that strong families are the cornerstone of our society, and that we as a society need to do everything we can to ensure that all families are provided for the greatest opportunity," she said. "I believe that all families – regardless of how they look, or how they're made, or where they live – that all families deserve to be treated with the same respect, rights and legal recognition."
If lawmakers approve the amendment during the upcoming session it would then go before voters on the 2014 ballot.