The New York-based Satanic Temple that held a "pink mass" over the grave of Westboro Baptist Church leader Fred Phelp's mother to turn her "gay for all eternity" has started a $20,000 IndieGogo campaign to place a Satanic Monument near the Oklahoma capitol to compliment the Ten Commandments monument currently on the north lawn.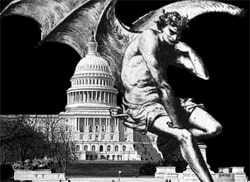 According to the campaign page:
The existing Ten Commandments monument, donated to the Capitol Preservation Commission in 2009 by Mike Ritze, a representative of the Oklahoma State Legislature and ordained Southern Baptist Deacon, has raised the ire of the American Civil Liberties Union (ACLU) who filed suit in August of 2013, noting that, "the monument stands alone, with no other monuments or memorials in the immediate vicinity." Also of concern to the ACLU is the "self-evidently exclusive" religious message "that supports and endorses the faiths and creeds of some churches and sects." We believe that in being allowed to place our monument within the proximity of the Ten Commandments monument, we can appease the ACLU's concerns.
By accepting our offer, the good people of Oklahoma City will have the opportunity to show that they espouse the basic freedoms spelled out in the Constitution. We imagine that the ACLU will also embrace such a response. Allowing us to donate a monument would show that the Oklahoma City Council does not discriminate, and both the religious and non-religious should be happy with such an outcome. Our mission is to bring people together by finding common sentiments that create solutions that everyone can appreciate and enjoy.
Donors to the Indiegogo campaign will receive official Satanic Temple t-shirts, mugs, bumper stickers, buttons, membership cards and framed certificates of membership with a wax seal.
(image via the Satanic Temple Indiegogo page)