The royal couple of RuPaul's Drag Race have split up, People magazine reports: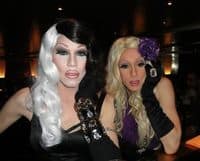 Needles (real name Aaron Coady), who won season 4 of the show, and Alaska, who was a runner up the following season, announced their breakup "on good terms" in a tongue-in-cheek press release, and included their wish "to clarify their intentions to admirers who may question the reason behind this mutual decision not to continue their relationship."
"The survival of our partnership relies on simply changing the word 'boy' in boyfriend to 'best,'" Needles says. "And because of my severe vanity, I'd like to keep my social media as a place dedicated to my art, and not a place to talk about my personal life."