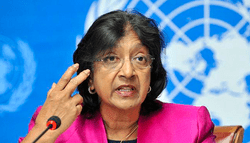 The head of the United Nation's human rights division has denounced the Supreme Court of India's ruling re-criminalizing gay sex, saying the decision violates international human rights laws. RTT News reports:
"Criminalizing private, consensual same-sex sexual conduct violates the rights to privacy and to non-discrimination enshrined in the International Covenant on Civil and Political Rights, which India has ratified," said UN High Commissioner for Human Rights Navi Pillay.
The Supreme Court's decision, she added in a news release, represents "a significant step backwards for India and a blow for human rights."
Indian government officials have vowed to take action against the ruling.