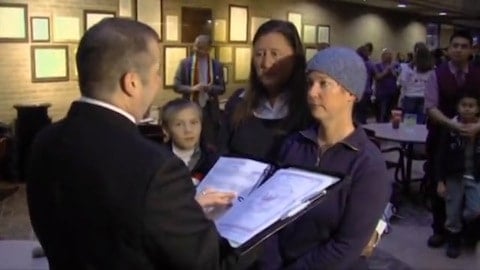 Just a few days ago a federal judge struck down Utah's gay marriage ban, legalizing gay marriage in the state. While this was a wonderful Christmas gift for hundreds of couples in the state, a few county clerks took issue with the new laws. Some chose to resign rather than do their job, but a few decided to just not do their job without resigning and refused to issue legal gay marriage licenses to legally-wed gay couples.
Clerk Bryan Thompson argued that he was waiting for the Denver-based 10th Circuit Court of Appeals to rule on Utah's motion for a stay before doing the job he is obligated to perform. As a result, a lesbian couple filed a lawsuit against the county. The U.S. Attorney's Office said that prosecution was unlikely unless the plaintiffs ask the judge for a contempt finding. 
A video of the news segment can be seen at Yahoo! News.