Approximately 7,000 gay couples married in France in 2013, France's Insee statistics agency reported on Tuesday, France 24 reports: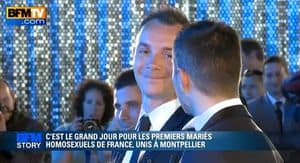 Three out of every five gay marriages involved male couples, it said.
The average age at which gay men got married was 50, while it was 43 for women. The corresponding average age for heterosexual couples was 37 and 34.
The average age difference in same-sex marriages was eight years in male couples and 5.5 years in female couple, against 4.3 years in mixed marriages, Insee reported.
The first gay marriage in France was held on May 29 in the southern city of Montpellier, which has a gay-friendly reputation.
Same-sex marriage still hasn't saved the institution of marriage there overall: "After a steady decline since 2005, the number of marriages increased slightly to 246,000 in 2012 but dropped again in 2013 to 238,000."