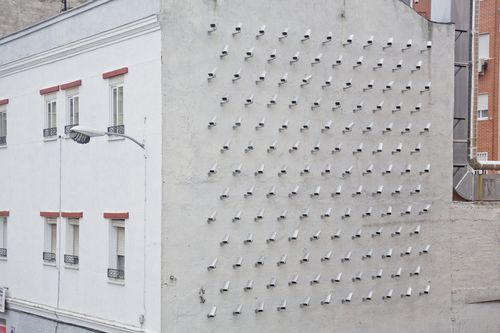 A street artist in Madrid has taken over one narrow block in an effort to raise awareness about surveillance and the technology used to perform it. The artist, named SpY, who incidentally began his career as a graffiti artist, has installed over 100 CCTV cameras on a wall overlooking the tiny street. The cameras are all aimed in the same direction and at the same angle, giving the overwhelming impression that anyone on the receiving end of their gaze is being closely watched and scrutinized. Though they are not in fact recording passers by, their mere presence gives off an air of suspicion and danger.
The Verge reports:
"The piece invites reflection about our present and daily interaction with technology and who is behind [it]," SpY writes in an email to The Verge. "The cameras are a symbol that represents it, however it is clear that we are surrounded by devices that act as tools of surveillance."
…SpY says that he's seen a variety of reactions; some people wonder whether the cameras are on, while others assume that they are and interact with them as though they're being recorded.
"I like to generate some type of reaction with my work," SpY says. "I try to awake and create a more lucid conscience with my interventions. Irony and humor are a way to make the receiver an accomplice, create a dialog, and make one think that the work communicates something with which one identifies."
…"As a side note regarding its location, all the cameras point to the house of a well-known drug dealer," SpY says. "Well known even by local police."
Check out more beautiful photos of the art installation at The Verge.