After a series of testimonies from both its proponents and detractors, a bill seeking to ban gay conversion therapy failed in the Virginia House's Health, Welfare and Institutions Subcommittee. The bill was sponsored by Del. Patrick Hope (right), a democrat from Arlington County, and the subcommittee gave no reason for their opposition to it.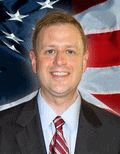 The Virginian-Pilot reports:
Gail Dickert, a 35-year-old Alexandria woman, said she was subjected to conversion therapy by people from the various churches her family attended growing up.
As young as age 5, those parishioners told her she was "confused and lost" because she had a crush on a female classmate. They said she would be bullied for "not being right with God" and that she couldn't pursue her desired career in the church if she didn't change.
And they convinced her her attraction to women was brought about by repressed memories of sexual abuse, which she falsely accused her father of, she said. It took her more than 20 years to recover from the emotional scars the therapy inflicted, scars no child should have to bear, Dickert said.
Christopher Doyle also took the stand, claiming that after years of hardship and therapy surrounding his sexual orientation, he has been happily married to a woman for seven years and now works as a counselor "to assist other people who struggle with homosexuality."
Hope believes that his bill would have fallen in line with both the American Psychiatric and Medical Association's condemnation of conversion therapy. It would have mirrored bills that passed in California and New Jersey, prohibiting licensed medical professionals from performing conversion therapy on minors. The bill would not have applied to clergy. 
"I think that people in Virginia still believe that homosexuality is some sort of mental disorder," Hope said after the vote. "But I think hearts and minds are changing every day. … And we'll come back every year until this becomes law."