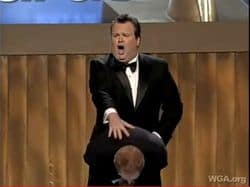 [SPOILERS]
Eric Stonestreet, the Emmy-award winning actor who plays Cam on ABC's "Modern Family" (and appeared in a hilarious 2011 sketch, at right, with co-star Jesse Tyler Ferguson) recently revealed a few upcoming episode secrets, proving that what happens in Vegas does not stay in Vegas. Of course, Cam and Mitchell's wedding is coming up and a bachelor party is inevitable. In true comedic fashion, though, the couple finds themselves in the midst of someone else's celebration rather than their own.
Entertainment Weekly reports:
"We just shot an episode that was kind of an anti-bachelor party episode in Vegas," says the man who plays Cam. "When we get there we run into Langham, Mitchell's ex played by the great Fred Armisen, and he's there having his bachelor party. And they say 'Well, while you're here, feel free to stop by,' and he hands me a piece of paper with all the happenings, and I turn and I go, 'Wow, an actual gay agenda.' So I sneak off and go and participate in their bachelor party while Mitchell gets a sauna and gets a message."
Sounds like things may get a little rowdy, but will we see some ever-elusive "Modern Family" gay PDA? 
Head over to EW and listen to Eric Stonestreet's podcast! And let us know your favorite Cam/Mitchell moments in the comments below.