Brian Boitano told the AP yesterday that he planned to never come out of the closet publicly until he found himself chosen by Obama for the delegation to the Sochi Olympics and realized the group he was in.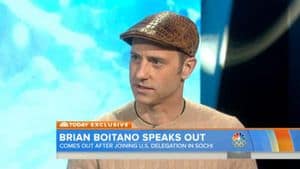 Said Boitano:
"Our nation is at the forefront of trying to create a more tolerant public…The president is kind of saying to Russia that as a strong country, we believe in this and if you don't follow along, we will leave you behind in this thought process…I feel great about the delegation and being part of the movement. It's important personally to feel I am representing the country and the president's message."
The AP reports that Boitano was in Courchevel, France when the delegation was announced. He calls himself "a private guy".
He released his statement from there:
It is my desire to be defined by my achievements and my contributions. While I am proud to play a public role in representing the American Olympic Delegation as a former Olympic athlete, I have always reserved my private life for my family and friends and will continue to do so. I am many things: a son, a brother, and uncle, a friend, an athlete, a cook, an author, and being gay is just one part of who I am. First and foremost I am an American athlete and I am proud to live in a country that encourages diversity, openness and tolerance. As an athlete, I hope we can remain focused on the Olympic spirit which celebrates achievement in sport by peoples of all nations.