Del. Joseph Yost (R-Giles County) on Tuesday became the first Republican state lawmaker in Virginia to back marriage equality, the Washington Blade reports: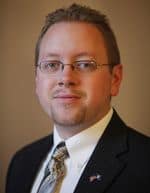 "As far as same-sex marriage goes, it does not bother me," state Del. Joseph Yost (R-Giles County) told the Washington Blade during an interview at an Equality Virginia reception that took place at the Library of Virginia in downtown Richmond. "Why not?" …
"It boils down to tradition; it's just a generational gap," said Yost. "I don't think the government should be involved in marriage period — straight or gay. I feel like we have bigger things to worry about."
Yost represents the 12th Senate District that includes Radford, Giles County and portions of Montgomery and Pulaski Counties in southwestern Virginia.