The Indiana House Judiciary Committee has delayed a vote on a constitutional ban on gay marriage after several hours of testimony, the AP reports: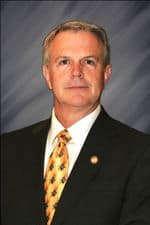 Chairman Greg Steuerwald delayed the vote Monday following more than three hours of testimony from supporters and opponents. He said afterward that witnesses for both sides made compelling arguments…
Steuerwald cited a need for additional time to weigh the testimonies" according to the Purdue Exponent.
No timetable was given for a vote or further testimony.
Writes the Elkhart Truth:
The panel began at 10 a.m. with Steuerwald announcing the parameters of the hearing: each side would be given one hour and 15 minutes for testimony, with some time built in. A total of 40 speakers were scheduled to speak. HJR-3 sponsor Rep. Eric Turner introduced HJR-3 and its companion bill, House Bill 1153 before opening the floor for testimony.
Supporters of the amendment said Monday that it was needed to protect against any court decisions overturning the existing state ban on gay marriage.
But opponents testified that Indiana's national and global image is suffering. Executives with Eli Lilly and Co. and Cummins Inc. spoke of their trouble attracting talent to the state.