A new monument set to be unveiled this Friday in Tel Aviv will pay respect to the estimated 15,000 members of the LGBT community who were sent to concentration camps under the Nazi regime. The Jerusalem Post reports: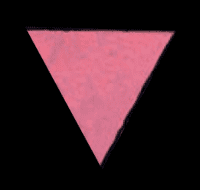 The monument will be shaped in the form of a pink triangle, reminiscent of the pink triangles LGBT community members were required to attach to their clothes in the concentration camps, and will feature short texts in Hebrew, English and German. 
Homosexuality was a felony under the Third Reich. The Gestapo founded an anti- homosexual unit that kept lists of nearly 100,000 names of people who were alleged members of the LGBT community. An estimated 15,000 of those were sent to concentration camps. In Buchenwald experiments were carried out with the intention of supposedly curing people from homosexuality.
Tel Aviv mayor Ron Huldai said, in a statement released yesterday, "This monument reminds us all how important it is for us to respect every human being. It is only natural that such a reminder will exist in Tel Aviv-Yafo – a city that warmly embraces all groups and minorities.