Illustrating once again that NOM's anti-gay animus extends beyond the marriage debate, the organization is now calling out President Obama for inviting openly gay NBA player Jason Collins to sit in the First Lady's box at the State of the Union address tonight, saying in a blog post: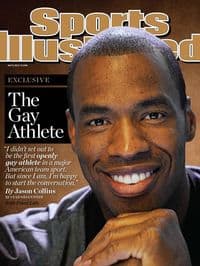 Professional athletes are looked up to by many young people in America as heroes and role models. Sadly, sometimes they do not live up to the responsibility that comes with their fame to be good examples and upright, admirable citizens –
…
For what it's worth, in today's gay-affirming culture – where being gay or lesbian is celebrated constantly in the entertainment world and highlighted seemingly daily in the news – we don't think that "coming out" is particularly heroic.
We assume that Jason Collins has done some fine things as a person to better society and help those in need. We'd be more interested in learning of those efforts than in having his sexuality shoved at us by the man that Newsweek dubbed, "the first gay President."
NOM also listed off its own list of sports stars more deserving of the President's invitation including Tim Tebow, Eli Manning, and Albert Pujols. 
[via EqualityMatters]