Just before the holiday, Judge Timothy Black ordered Ohio to recognize same-sex marriages…on death certificates.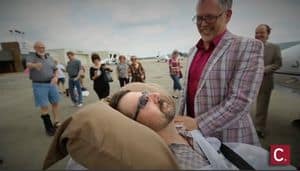 The ruling came in a well-known case brought by John Arthur and Jim Obergfell, who flew to Maryland from Ohio last year so they could marry on the airport tarmac before Arthur's ALS, a progressive neurological disease that robs patients of their ability to walk, talk and eventually breathe, became too difficult.
Arthur died in October.
Ohio has now appealed the federal ruling, the AP reports:
The attorney general's office filed its notice of appeal in the 6th U.S. Circuit Court of Appeals in Cincinnati. A brief containing its arguments will be filed later…
…Attorney General Mike DeWine previously said he would be appealing.
"Our job is to defend the Ohio Constitution and state statutes … and that's what we intend to do," he said.