Out lesbian Caitlin Cahow, Olympic silver medalist and bronze medalist in women's ice hockey, has penned an article published in USA Today about diversity in sports and what her selection as as part of the White House Delegation to the Games means for LGBT visibility in Sochi.
Said Cahow in part: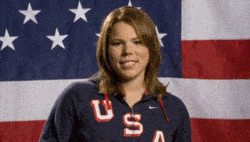 When I was chosen to represent the United States as part of the White House Delegation to the Games, it was with the acknowledgment that our delegation was assembled to emphasize the diversity of the American experience. Despite the selective focus of some, I am not going to Russia to represent but one community. Our delegation carries a message and a symbolism, which both includes and extends beyond the LGBT issues highlighted in the headlines. I have the extraordinary honor to serve alongside fellow delegates like Janet Napolitano, the first female Secretary of Homeland Security, and Billie Jean King, whose leadership and advocacy for equality in sport has had a ripple effect through all facets of our society. These women are among the trailblazers who have fought to make so many of my dreams possible.
While the world unites in celebration of athletic achievement, we also have the opportunity to reevaluate how well we are living up to the historic ideals of the Olympic Movement. Though we have made great strides for equality, discrimination persists in sport and society.
You can read the article in full HERE.