You may have heard a snippet this week about Robert W. Wilson, a millionaire philanthropist who recently committed suicide by jumping from the 16th floor of his New York apartment. But some of the news stories covering his death have neglected to mention that he was gay.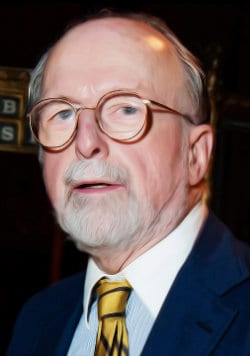 Though the 87-year-old founder of the Wilson & Associates hedge fund married a woman during his lifetime, he divorced her over four decades ago and had no children.
According to his friends, Wilson had thought about committing suicide for a long time due to his declining health — he had had a stroke in June, another one about a month before his death, and even went so far as to wonder aloud about killing himself at his 87th birthday party in November. The New York Post reports that a friend suggested that he jump into the courtyard of his apartment — a "beloved, art-filled, $20  million-plus apartment overlooking Central Park" that he considered "his refuge from a sometimes unfriendly city" — so that he wouldn't land on anyone. He apparently took her advice.
His brief suicide note read: "I had a rewarding life. Thank you and goodbye to all my friends. Please make sure you cancel all my plans. Tell everyone what I did. I'm not ashamed of killing myself. Sell all my stuff." The New York Times said that the note concluded with "a list of appointments that would have to be canceled."
Over his lifetime, the self-described atheist gave hundreds of millions to environmental groups such as the Environmental Defense Fund the Nature Conservancy, the Wildlife Conservation Society and the World Monuments Fund as well as to the American Civil Liberties Union and Catholic schools which he considered "exceptionally good" and more efficient than public schools. He made a majority of his philanthropic contributions on the condition that they be used to match other's donations in order to help raise more money.
He also reportedly used to split cab fares and dinner checks with his wealthy friends and neighbors, and regularly took the subway, despite his millions.
By the time of his death Wilson had given a majority of his fortune to charity.