Propaganda: A Festival Celebrating Russian Voices hopes to put pressure on that nation's anti-gay propaganda laws by hearing from leaders in various fields about the impact they have had. In particular, the festival's website notes that the series of staged readings and panel discussions, which will take place January 18th and 19th at Cooper Union in New York City, will focus on sports, performance, and Olympic and LGBT history in relation to the propaganda laws. With the 2014 Olympics in Sochi quickly approaching, these sorts of discussions are all the more important, particularly if the events of Propaganda can gain a large, engaged audience.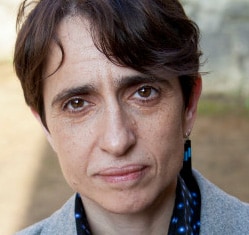 The festival has an intriguing and exciting line-up, detailed on its website:
On January 18th at 3pm in Cooper Union's Rose Auditorium, Propaganda: A Festival Celebrating Russian Voices will feature the first ever presentation of Daria Wilke's acclaimed 2013 LGBT Young Adult Novel The Jester's Cap, in a new theatrical adaptation. On January 18th at 7pm, the first English translation of celebrated playwright Oleg Mikhailov's drama Pelmeny, as well as a reading of Vladimir Nabakov's seminal work on sport, Breitenstrater-Paolino, will be presented. Both readings will be followed by panel discussions.
On January 19th at 5pm in Cooper Union's Great Hall, Tess Berry-Hart's acclaimed docu-drama SOCHI 2014 will be presented for the first time in the US, and read simultaneously in cities around the globe. Following the reading, at 6:30pm, Masha Gessen (pictured), journalist and NY Times International Opinion contributor, will make her first public appearance since expatriating from Russia, speaking in a panel discussion (moderated by Towleroad's Ari Ezra Waldman). The online theater journal HowlRound will air a live stream of this panel on HowlRound TV, as well as publish a series of articles by and about Propaganda's artists and participants in the week leading up to the festival.
All proceeds from Propaganda will benefit the Spectrum Human Rights Alliance. Spectrum is a leading international organization devoted to human rights advancement on behalf of people who experience discrimination or abuse on the basis of their actual or perceived sexual orientation, gender identity or expression in Eastern Europe, Russia, Ukraine, Belarus and former Soviet Union Countries.
Individual readings/panels have ticket prices of $20, an All-Access Pass can be purchased for $50, and varying levels of increased support/recognition are also available for higher prices.