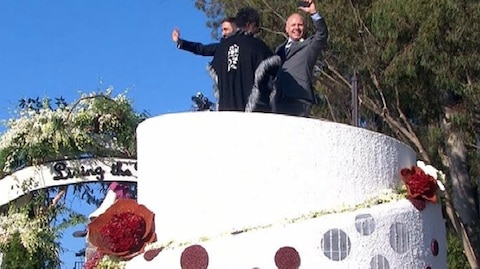 (image nbcla twitter)
Yesterday, we reported on Danny Leclair, 45, and Aubrey Loots, 42, a gay Los Angeles couple of 12 years who married atop a float in Pasadena's Tournament of Roses Parade sponsored by the AIDS Healthcare Foundation.
The marriage, which was intended to mark the first New Year's Day that same-sex marriage is legal in California and the role that marriage can play in helping to reduce new HIV infections among gay men, apparently drew objections from both sides of the aisle. In an interview with LA Weekly, Leclair admitted that they had been criticized by both anti-gay conservatives and members of the LGBT community.
"We did not expect that some of our 'supporters' would join the chorus of dissent. We heard from gay men who felt it was too soon to flaunt our wedding in public. Some felt that it was wildly inappropriate to assert that committed same sex relationships could contribute to the reduction of HIV infections around the world. We heard from friends of the LGBT community who thought two men kissing on a cake would set back the movement by enraging the Right Wing Conservative groups. Then there were the concerned citizens who felt that any wedding, gay, or straight, should be reserved for less public affairs."
Lecliar also noted that the AIDS Healthcare Foundation's statement that gay marriage is "the best protection" from AIDS is more of a starting point for a larger conversion about lasting, committed relationships helping reduce the spread of HIV in the gay community.  
[via Breitbart]