On March 25th, the San Francisco Gay Men's Chorus will premiere a series of songs, "Tyler's Suite," celebrating the life of Tyler Clementi (right). The college student was himself a musician before his suicide in 2010, which in turn prompted a great deal of national discussion surrounding the issue of LGBT youth and bullying.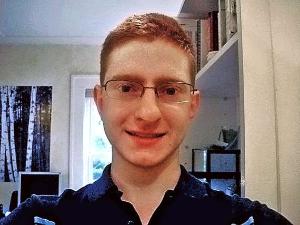 The musical piece will be comprised of multiple movements written by some of today's great composers, including Stephen Schwartz, and is being presented as part of a larger performance titled "Luster: An American Songbook."
BroadwayWorld.com reports:
"As a soundtrack of American life during the time of the Great Depression and two world wars, the American Songbook consists of timeless music that translated positive values and an optimistic spirit," says [Artistic Director Dr. Timothy] Seelig. "The Chorus continues that tradition, presenting a new set of songs by today's premier American composers, offering hope and bringing to light the important cultural issues of today through the story of Tyler Clementi."
…
With the help of the Tyler Clementi Foundation, SFGMC commissioned a musical work that will add eight new songs to the soundtrack that is the American Songbook of the 21st century, honoring the memory of a beloved son, brother and friend. "Tyler's Suite" creates a new story of inclusion, dignity and acceptance for other youth and their families, through a musical experience that inspires community, activism and compassion. The story is one of hope and encouragement to families everywhere.
Other composers involved in the project include "John Bucchino, Ann Hampton Callaway, Craig Carnelia, John Corigliano, Nolan Gasser, Jake Heggie, Lance Horne, and Pamela Stewart." The piece will also be performed by gay men's choruses in Chicago, Los Angeles, NYC, San Diego, Dallas, and Seattle.
Visit the San Francisco Gay Men's Chorus website for tickets and more information.