Because the need to hook up can strike any place, any time, the folks behind location-aware social networking app Scruff have provided a multi-language gay slang dictionary.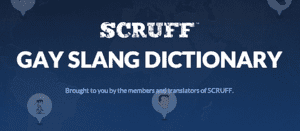 The words themselves are pretty common to all but the newest of gays and the definitions are pretty sparse, but the selling point is that all of the words are translated into 41 languages, so you'll know the proper term for "NSA" almost everywhere you go.
Not all translations are word-for-word, but that's to be expected when working with slang. Some terms translate strangely - the Japanese term for "kink" is the English loan word "abnormal" (a-bu-no-ma-ru), for example - but others are arguably better than their English counterpart; the German phrase for a "bear chaser", "Bären-Jäger" which literally translates to "bear hunter", puts a decidedly different spin on the bear-chaser dynamic.