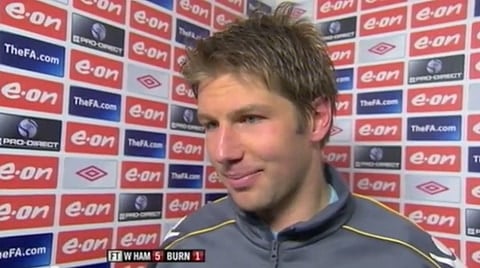 Retired 31-year-old German footballer Thomas Hitzlsperger has become the most high-profile European footballer to come out of the closet, telling German newspaper Die Zeit that he's gay and wants to talk publicly to raise awareness about homosexuality among professional athletes, the Guardian reports:
Said Hitzlesperger: "It's been a long and difficult process. Only in the last few years have I realised that I preferred living together with a man."
He added:
In England, Italy and Germany being a homosexual is no big thing, at least not in the dressing room…I was never ashamed of being who I am but it was not always easy to sit on a table with 20 young men and listen to jokes about gays. You let them get on with it as long as the jokes are somewhat funny and not too insulting…Being gay is topic that is 'ignored' in football and not 'a serious topic in the changing room'. Fighting spirit, passion and winning mentality are intrinsically linked, that doesn't fit the cliché: 'Gays are soft'."
The Guardian notes that Hitzlsperger played in the German national team 52 times including in a World Cup and European Championship, and retired just four months ago.
The BBC notes that Hitzlsperger is just the fourth footballer to come out:
In February 2013, former United States and Leeds United winger Robbie Rogers said he was gay.
Swedish lower league player Anton Hysen, son of former Liverpool player Glenn Hysen, publicly announced his homosexuality in an interview with a Swedish football magazine in 2011.
And in 1990, former England Under-21 international Justin Fashanu was the first professional footballer in Britain to reveal he was gay. He took his own life eight years later, aged 37.