Toni Atkins, D-San Diego, was elected as the next Speaker of the California Assembly yesterday, Frontiers reports: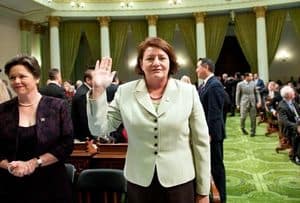 She is the first open lesbian to serve as speaker—and she takes over from the first openly gay man, current Assembly Speaker John A. Pérez. The Speaker of the Assembly has often been described as the second most powerful person in state politics after the governor.
Atkins is also only the second Democratic woman to be elected to the post, according to a press release from her office:
"I am humbled, grateful, and ready to get to work," says Atkins.  "From the drought we are experiencing to ensuring a healthy business climate and a world class educational system, California is facing important issues in the near future.  I look forward to leading the State Assembly in working with the Senate and the Governor to meet our challenges and to move our great state forward.  I thank my Assembly colleagues for their confidence and support.
 
I also am very grateful to Speaker Pérez for his support and mentorship and I look forward to working with him on a smooth transition."
Congrats to Speaker Atkins!