Back in September 2012 Towleroad posted about April DeBoer and Jayne Rowse, a Detroit couple suing the state of Michigan over its ban on gay adoption, who expanded their lawsuit to take on the state's marriage amendment. In March 2013 we reported that Federal Judge Bernard Friedman stayed his decision in the matter until after the Supreme Court ruling on DOMA. And last July, Friedman ruled that the couple could proceed with their challenge.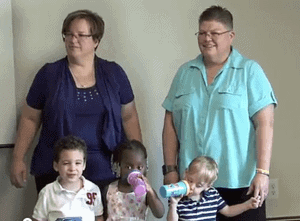 That challenge goes before a U.S. District Court in Detroit this morning:
If Friedman overturns the ban on gay marriage and same-sex adoption, Michigan Attorney General Bill Schuette, who also is named as a defendant in the federal lawsuit, is expected to immediately appeal the decision to the 6th U.S. Circuit Court of Appeals in Cincinnati, where a similar Ohio case is under appeal.
In September, Schuette filed a brief in the case, stating that "one of the paramount purposes of marriage in Michigan — and at least 37 other states that define marriage as a union between a man and a woman — is, and has always been, to regulate sexual relationships between men and women so that the unique procreative capacity of such relationships benefits rather than harms society."
One element in this trial that will be different from trial's we've seen in the past is the parenting aspect, and defendants of Michigan's ban have an arsenal of biased experts and flawed studies they plan to use, including discredited anti-gay UT researcher Mark Regnerus.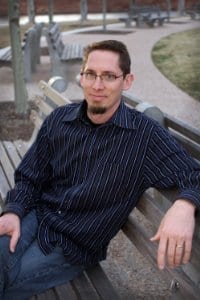 In June, Regnerus published what LGBT groups called, in a mass statement, a "flawed, misleading, and scientifically unsound paper that seeks to disparage lesbian and gay parents". The study on its face appeared to overturn three decades of research into families with same-sex parents and has been cited again and again by hateful right-wing groups despite the fact that the claims contained in it have been thoroughly debunked.
The NYT notes that "the last time these issues were debated in a federal court, in California nearly four years ago, social science opponents of same-sex marriage underwent withering challenges in pretrial depositions and did not even appear in court."
This time, it's different:
In meetings hosted by the Heritage Foundation in Washington in late 2010, opponents of same-sex marriage discussed the urgent need to generate new studies on family structures and children, according to recent pretrial depositions of two witnesses in the Michigan trial and other participants. One result was the marshaling of $785,000 for a large-scale study by Mark Regnerus, a meeting participant and a sociologist at the University of Texas who will testify in Michigan.
…
This time, four social science researchers, all of whom attended at least one of the Heritage Foundation meetings and went on to publish new reports, are scheduled to testify in favor of Michigan's ban.
The most prominent is Dr. Regnerus. His study, published in 2012, was condemned by leading social scientists as misleading and irrelevant, but some conservatives call it the best of its kind and continue to cite it in speeches and court cases.
Let's hope DeBoer and Rowse's lawyers are ready and waiting.