British Foreign Secretary William Hague released a statement today following the passage of Uganda's anti-gay law: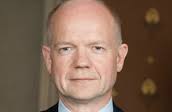 I am deeply saddened and disappointed that the Anti-Homosexuality Bill in Uganda has been signed into law. The UK strongly opposes all discrimination on any grounds. We question the Bill's compatibility with Uganda's constitution and international treaty obligations. There can be no doubt that this Bill will increase persecution and discrimination of Ugandans, as well as damage Uganda's reputation internationally.
We ask the Government of Uganda to protect all its citizens and encourage tolerance, equality and respect. We will continue to press the Government of Uganda to defend human rights for all, without discrimination on any grounds.
In related news, the Netherlands is considering consequences:
The Netherlands, for instance — whose bilateral aid to Uganda for 2014 amounts to €22 million euros ($30.21 million) – had already suspended its direct budget support to the government, and is now considering what to do with civil society organizations receiving Dutch aid that will be found to have backed the bill. Roel van der Meij, spokesperson for Minister for Foreign Trade and Development Cooperation Lilianne Ploumen, didn't clarify whether the suspicion is on local civil society groups only, as he told Devex there's no reason to believe that any organization currently receiving aid from the Netherlands has supported the bill.