As Illinois' marriage equality law begins to take effect this year, Loyola University in Chicago has adopted an official policy that bans same-sex couples from marrying on campus grounds. DNAinfo Chicago reports: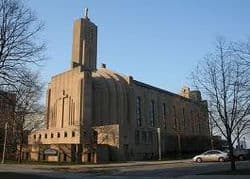 The policy, enacted in December, allows only Catholic-sanctioned weddings — between a man and a woman — at the school's iconic Madonna della Strada Chapel in Rogers Park [pictured right]. All other ceremonies would be forbidden campuswide, university officials said.
The move undermined the hope of students and alumni who wanted the university to allow same-sex marriage ceremonies on campus grounds after the state Legislature passed the same-sex marriage law last year.
The state's first same-sex couples were officially married Friday.
"I was extremely disappointed because that policy is not reflective of the Loyola that I know," said Michael Jarecki, 35, who's gay and graduated from Loyola in 2001. "To me, this seems like two steps backwards."
Windy City Times notes that Loyola's religious affiliation and mission affords the university exemptions granted under the equal-marriage law, which states that religious organizations are not required to provide their facilities for wedding ceremonies and receptions. 
However, the law's definition of "religious facilities" states that educational facilities are not exempt and with the school's standing as both a religious organization and an educational institution, there could be room for interpretation based on how the law is worded. A way around this would be for the school to argue that the wedding and reception venues offered by the university aren't necessarily used for educational purposes.