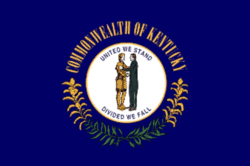 A judge is expected to issue a final order today in a case he ruled on in mid-February striking down a portion of Kentucky's ban on same-sex marriage. In that ruling U.S. District Judge John G. Heyburn ordered the state to recognize gay marriages performed elsewhere. The judge did not say that Kentucky must allow same-sex marriages to be performed in the state.
The Herald-Leader reported this morning:
Heyburn told lawyers that his final order will not include a stay postponing it from taking effect. "There could be some confusion" among Kentuckians who quickly seek legal benefits stemming from their same-sex marriages, such as joint tax-filing status, if the state appeals 30 days later and delays the implementation of the order or throws its future into question, Heyburn cautioned.
Kentucky's attorney general has asked the judge to delay his order by 90 days in a request filed this morning, the AP reports:
The two-page filing Thursday morning says the delay is sought to give the attorney general time to decide whether to appeal the Feb. 12 ruling and would give the state an opportunity to prepare to implement the order.
A tweet from the AP late this morning suggested that the judge's final order had been issued, but legal media sources suggest that the AP may have jumped the gun on that one.
UPDATE: The AP has issued a correction.