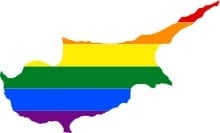 Cyprus, the Mediterranean island south of Turkey and west of Lebanon, has a burgeoning gay community ready to show its stripes. Thankfully, the country will hold its first ever gay pride parade on May 31st in conjunction with a 15-day pride festival. The festival will include other events, such as a film festival, art shows, discussions series, and even an anti-bullying campaign aimed at Cyprus youth. It is an exciting development for a country fervently awaiting the passage of a Civil Partnership Act this April.
Cyprus Mail reports:
"A short step before the impending legalisation of civil unions and the criminalisation of homophobic rhetoric, we believe that the time is ripe for an elusive dream of ours materialise – the organising of the first Cyprus Gay Pride Festival, which will embody the will of LGBTI – lesbian, gay, bisexual, transgender and intersex – people to be heard and be accepted as equals, not to be discriminated against or have their human rights diminished by others because of their own personal beliefs and religious affiliations," said the press release.
The head of the LGBTI community (Costas Gavrielides of ACCEPT LGBTI Cyprus) said he hoped that the government would make good on its promise and deliver the bill to the House by April, as it was promised by Interior Minister Socratis Hasikos.
The ministry put a temporary stop to the plan in November 2013, when Hasikos said that it should be rewritten because it violated internal ministry procedures. The minister explained then that this was merely a procedural issue and the bill would be delivered as promised to the LGBTI community.
"I am very glad we reached the point where we can organise a pride festival without fear. Acceptance is the key," said Gavrielides.
U.S., Belgian, and Swedish ambassadors will reportedly be in attendance for the festival and parade, which will take place in Nicosia under supervision of mayor Constantinos Yiorkadjis. Festival officials have also invited members of the LGBTI community in Northern Cyprus, a republic of Turkey which decriminalized sodomy this January.