Louisiana is the latest state that will see a lawsuit challenging its ban on same-sex marriage, the AP reports: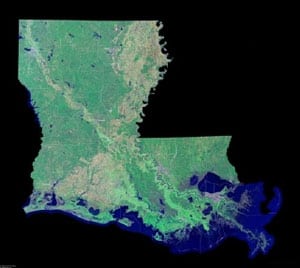 The Forum for Equality Louisiana and four gay married couples have called a Wednesday news conference on the issue….The New Orleans-based Forum and the four couples plan to challenge the recognition ban, citing equal protection and free speech rights in the U.S. Constitution. Their decision follows months of legal research after the U.S. Supreme Court ruled last year that same-sex couples should get the same federal benefits as heterosexual couples.
The lawsuit attacks Louisiana's ban on several fronts including allowing both parents' names on birth certificates and adoptions as well as disparities in tax laws, the AP reports:
The legal challenge also addresses other instances in which legally married gay couples are treated differently from married opposite-sex couples, noting that same-sex spouses are denied inheritance rights when one dies; and that only one parent in a gay marriage is recognized on a child's birth certificate, posing a host of potential problems for the non-recognized parent if, for instance, the child needs parental permission for medical treatment.