As expected, Indiana's Senate yesterday passed HJR3, the constitional ban on same-sex marriage by a final 32-17 vote. But because it also failed to reinsert language struck by the House, the three-step process of approving the measure must begin all over again next year.
Voters will not see the amendment on the ballot until 2016, maybe never.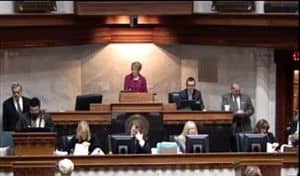 The Indy Star reports:
The vote came after the Senate declined Thursday to restore the amendment's second sentence, which also would have banned civil unions and similar arrangements. Instead, the General Assembly must approve the ban again in 2015 or 2016 before a public referendum could happen in November 2016.
Some conservatives who had fought for the constitutional ban for years weren't all that happy with its passage because it didn't include original language.
The process, which was supposed to be a piece of cake for anti-gay conservatives, did not go smoothly, and the discomfort shown by some is a reflection of the changing shift in attitudes in the country overall, the NYT reports:
"You start to get the feeling a lot of people in the legislature just don't want to deal with this again — don't have the appetite," said Megan Robertson, campaign manager for Freedom Indiana, an anti-amendment group supported by business interests like Eli Lilly and Company and Cummins. "We wanted to defeat this thing outright of course, but getting it pushed down the road is a huge victory." …
"With the way things are changing, with all the court cases, one after another, there's a good chance that we never even reach 2016 without the Supreme Court having weighed in on this issue," said Sarah Warbelow, the state legislative director of the Human Rights Campaign, a gay-rights group.
Advocates of the amendment said they were surprised by what had transpired in Indiana. "The decision to dilute and delay the marriage amendment and deprive voters of the chance to consider it this year is very disappointing," said Curt Smith, president of the Indiana Family Institute, which pushed for the amendment. "I expected it to go forward," he added, "and I expected to have a vote this year."