The Indiana Senate Rules Committee this afternoon voted 8-4 to advance a constitutional ban on same-sex marriage, the Indianapolis Star reports: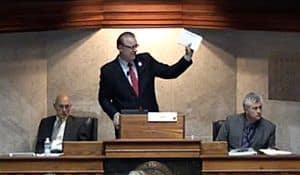 The 12-member Senate Rules and Legislative Procedure Committee voted 8-4 along party lines to send the measure, known as House Joint Resolution 3, to the full Senate, probably later this week. All eight Republicans voted for the measure, and all four Democrats voted against.
The decision came with no discussion by committee members about whether to restore the amendment's second sentence, which would also ban civil unions and similar arrangements. The House removed that provision before sending the amendment to the Senate.
Instead, the Senate will likely take up the question of whether to restore the second sentence when the measure comes up for second reading before the full 50-member Senate. That could happen as early as Thursday.