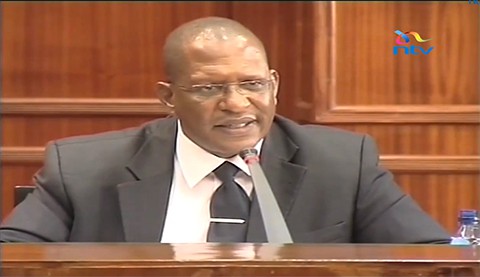 Members of Kenya's parliament are upset that the nation's anti-gay laws are not being enforced to an extent they find sufficiently draconian and have thus decided to question their Director of Public Prosecutions Keriako Tobiko (pictured above) and Attorney General Githu Muigai in an attempt to find answers and redirect public policy on the subject. According to Standard Media:
The legislators say that in spite of the existence of the law banning homosexual behaviour, gays have had leverage to operate with impunity as the State appears helpless in cracking down on what they insist are outlaws. 
Three MPs allied to Jubilee [a four party political coalition] last evening convened a Press conference where they announced their plan to summon the two and also launched an anti-gay caucus of parliamentarians. 
MPs Irungu Kangata (Kiharu), John Njoroge (Kasarani) and Julius Ndegwa (Lamu West) said they were appalled by recent activities of pro- gay groups demonstrating in support of homosexuals in Nairobi and Mombasa.
The activities which the ministers refer to will likely include the recent protests organized by LGBT rights activists in Kenya regarding neighboring Uganda's newly enacted anti-gay bill along with the celebration of Pride at the U.S. Embassy in Nairobi back in June of 2012.
Kenya remains a dangerous place to be openly gay as the nation's penal code, first enacted in 1930 and revised in 2006, still criminalizes homosexuality. As reported here, a man was stoned to death in 2012 after it was discovered he had sex with another man.