Michigan Governor Rick Snyder wants Michigan's ban on domestic partner benefits for gay couples who work for state and local governments and asked a federal judge to uphold the ban in a motion filed on Friday, MLive reports: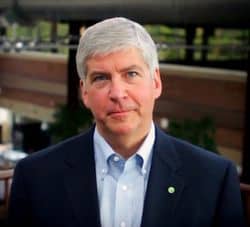 The motion asks Judge David Lawson to rule in favor of the state in a lawsuit filed by five same-sex couples. The motion argues that the 2011 law banning the benefits "eliminates local government programs that are irrational and unfair" and promotes "financially sound" local agencies.
It will save the government money, in other words, to discriminate against gays.
MLive adds that Lawson has already ruled against the fiscal responsibility argument in a preliminary injunction issued in June 2013:
"The only policy issue that the defendant has identified is the desire to save money. But a desire to save money cannot possibly be sufficiently important to require the court to abstain from deciding the constitutional issues raised by the plaintiffs. If it were, states could effectively insulate themselves from constitutional review by the federal courts of virtually any law by citing budgetary concerns," Lawson wrote.
The state's motion also cites a Michigan Court of Appeals case that called "absurd" and "ridiculous" a Michigan Civil Service Commission policy that would allow for state employees to share benefits with one other unrelated adult living in the same house.
"Eliminating policies that disfavor familial relationships and are 'absurd', 'unfair,' even 'ridiculous' is rational and related to legitimate state interests in promoting fair and reasonable local government policies," the state argued.
Previously…
Federal Judge Halts Michigan's Ban on Domestic Partner Benefits, Cites DOMA Ruling [tlrd]