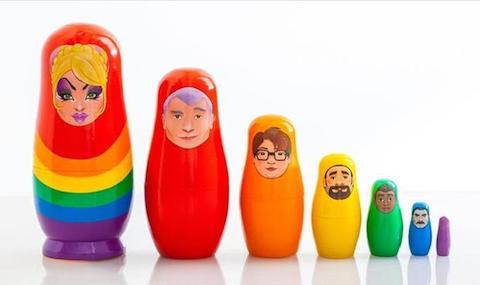 Toronto artist Brahm Finkelstein wanted to find a way to bring awareness to the LGBT human rights abuses that are going on in Russia. Then, he came up with a subversive idea for perhaps the perfect representation of gay pride and Russia: he teamed up with Italian artist Danilo Santino and crafted Pride Dolls.
The Pride Dolls are iconic Russian matryoshka dolls, or "nesting dolls", done up in each of the six colors of the Pride flag and six different portraits of gay and lesbian characters, with the drag queen as the largest, swathed in the entire rainbow. Naturally.
Finkelstein hopes that his dolls will raise awareness and predicts that he'll have a second line soon. The proceeds from the dolls will go to the Gay and Lesbian International Sports Association (GLISA), the creator of the OutGames.