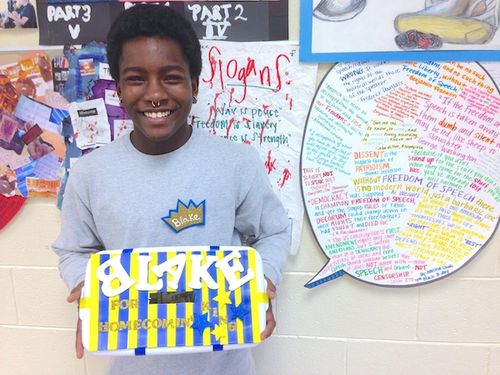 Blake Brockington, a 17-year-old transgender student at Charlotte, North Carolina's East Mecklenburg High School has been nominated for homecoming king. Brockington, who had a difficult childhood and coming out experience, hopes to win in order to set an example for other transgender youth. His nomination comes after a tumultuous fall in which Cassidy Campbell won homecoming queen at her California school (only to find herself intensely bullied) and Casey Karon was denied the option at his Pennsylvania school.
Be that as it may, Brockington has a chance to make a huge difference in the lives of others.
QNotes reports:
"I honestly feel like this is something I have to do," says Brockington, noting few other transgender male students have had the opportunity…
Brockington says winning will mean the most for several younger transgender students he mentors, including a nine-year-old boy.
"He really looks up to me. That's my heart," Brockington says of his mentee. "He has support now and he will be able to avoid just about everything I'm going through and I don't want him to ever have to be scared. I feel like if I do this, that's one red flag for everybody to say, 'Nobody should be scared to be themselves and everybody should have an equal opportunity to have an enjoyable high school experience.'"
Brockington faced a great deal of difficulty when he came out as transgender during his sophomore year at East Mecklenburg. His step-mother supported him, while his dad did not, and various peers, teachers, and guidance counselors were none-too-helpful either. After having good experiences coming out to several friends and attending a local Queer Youth Prom at the Time Out Youth Center, though, Brockington gained confidence.
"After that, I was like, 'I don't have to do this anymore — I don't have to hide anymore or not be myself,'" he says. "I came to school my junior year and said, 'Hey, I'm Blake.'"
He now lives in foster care, a more supportive environment, and will head off to the University of North Carolina-Charlotte to study math, music, and education in the fall. And though his positive intentions are reason enough to encourage Brockington's homecoming win, the crown will eventually go to the student who raises the most money for Mothering Across Continents, a non-profit building schools in South Sudan. 
…even if he doesn't win, he'll still be among a dozen guys on the school's homecoming court, though Brockington is aiming for top spot.
"We're hoping for king," he says.
Head over to QNotes for more information about the fundraising effort and donations. We'll be rooting for you at Towleroad, Blake! 
Photo via Qnotes.