While the future of marriage equality remains uncertain in the Beehive State as the 10th Circuit Court of Appeals has yet to consider and rule on a lower court ruling that struck down the state's ban on same-sex marriage, one lawmaker is fighting to send a strong message about how Utah treats its LGBT brethren: "we don't discriminate against our fellow Utahans."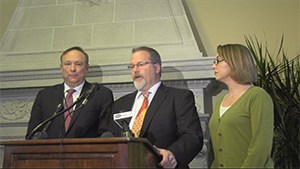 Republican State Senator Steve Urquhart has, for the second year in a row, introduced a bill that would "bar discrimination based on sexual identity or orientation in housing and employment deals," according to the AP. Despite the fact that the bill has gained some ground since being backed by a Republican (it was previously introduced on four separate occasions by Democratic representatives), many Utah lawmakers are calling for a delay in consideration of any proposed legislation that could be impacted by the state's ongoing debacle surrounding same-sex marriage, which in the eyes of many, includes Senator Urquhart's bill. Urquhart, however, does not agree.
Referring to Judge Robert Shelby's ruling that struck down the state's ban on same-sex marriage, Urquhart said:
"I want to point out, that this issue, it was relevant before Shelby's decision," Urquhart said. "It will continue to be relevant no matter how the issue of same-sex marriage is resolved."
On Friday, Urquhart urged anyone supporting the bill to "come to the Capitol and let people know that this issue should be heard."
He then took a paper form used for members of the public to request meetings with lawmakers and wrote a message on the back urging his bill to be heard.
He taped it to the main doors of the Senate, and urged any supporters to do the same during the legislative session.
Eight other supporters in attendance posted similar messages on the door soon after.
Senate Chief of Staff Ric Cantrell said the messages will be allowed, but the door will be cleared off every few days and the messages saved.
Meanwhile, other bills have been proposed which actually would be impacted by the 10th Circuit's eventual ruling. Republican State Representative Merill Nelson has introduced legalisation that would allow Utah taxpayers do donate part of their tax refund to fight gay marriage. Another proposed law "would stipulate that religious officials do not have to perform marriages that violate their beliefs."