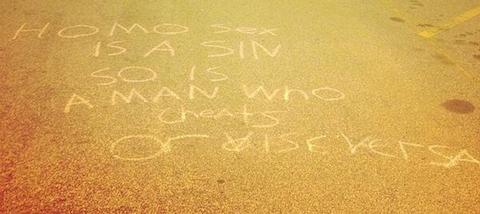 Morehouse College and Spelman College of Georgia teamed up for Pride Week 2014 in order to bring awareness of the LGBT communities to students on their respective campuses. After the Monday night kickoff, students tweeted pictures of anti-gay sidewalk chalkings that had been scrawled in response, reading "Homo Sex is a Sin…" and "He loves YOU! He Hates Sin. Jesus Saves."
This prompted Shane Windmeyer, the Executive Director of Campus Pride to call on the school President and administrators to step in to ensure the safety of campus students.
Religion-based bigotry of this kind is a harsh reminder of the hard work still to do on college campuses, especially at HBCUs [Historically black colleges and universities]. Campus Pride stands with the students at Spelman College and Morehouse College in working to change the campus climate — but, let's be clear, it is not the responsibility of the students to accommodate their own inclusion and safety.  It is the job of the President and administrators to ensure a safe, welcoming learning environment for all its students.  Now is the time during SpelHouse Pride Week to step up.