The anti-gay Christian law firm the Liberty Counsel has begun defending the Timberlake Christian School in Virginia that recently barred an 8-year-old girl from re-enrolling because of her "alternative gender identity" (meaning her short hair and love of sports).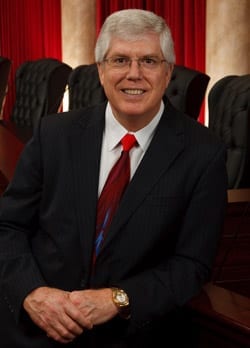 On Wednesday, Liberty Counsel founder Mat Staver (pictured), issued a statement on behalf of the school which said:
We are deeply dismayed over the inaccurate and public nature of this situation and the false and inaccurate reporting.
The Church and the School are limited in what can be related about this situation. With all due respect, the facts are not as [the student, Sunnie Kahle's] great-grandparents have portrayed them. This matter is far beyond a simple 'hairstyle and tomboy issue' as inaccurately portrayed. It is not about that at all. At no time did the Church or the School state or imply that S.K. was sexually immoral or the like. Yet, reports like this have appeared in the media. The School has never told S.K. she cannot return to school…
We deeply regret that the great-grandparents either made inaccurate statements or were quoted out of context. This public discussion is not in the best interest of all concerned. S.K. has been attending our school for several years and we had looked forward to working with her and her great-grandparents privately.
Right Wing Watch correctly points out however that the media reports have accurately reported the story as most have them have simply reprinted the letter that the school issued to Kahle's adoptive great grandparents verbatim. While the letter did not forbid Kahle from attending school during the current academic year, it did say "we (the school) must ask that you not re-enroll Sunnie here at TCS [unless she adheres to our sexist expectations]."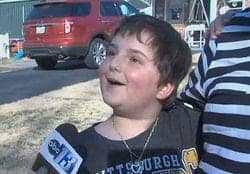 Another report from The Roanoke Times explains the difficulties that Kahle has experienced at the Timberlake Christian School as well as the qualities that make her and her adoptive great grandparents so wonderful:
That same year [that Kahle began Pre-K at TCS], Sunnie decided she wanted to wear boy-style clothing and cut her hair short. She gave the extra hair away to a child with cancer.
Thompson (Kahle's adoptive great grandmother) said the girl's pre-K teacher raised questions and concerns with her about Sunnie's gender identity and behavior, so Thompson sought an outside opinion.
"I took her to the doctor and I asked the doctor and he said, 'Leave that child alone,'" Thompson explained.
She said she feels confident about her choice to not try to push Sunnie to be more feminine and to let her make decisions for herself.
Thompson said Sunnie, who now attends public school in Campbell County, goes to counseling and gets professional help for mood swings, but that counseling is not specifically targeted at discussing gender identity.
When a fellow kindergarten girl mistook Kahle for a boy in the girls' bathroom and again in second grade when some boys tried to pull Kahle into a boys' bathroom.
Similar to the Texas school that forbade a bullied student from wearing a My Little Pony backpack, it seems that the Timberlake Christian School wants Kahle to change her behavior to help placate her bullying peers.