American actress and singer Elaine Stritch became famous on Broadway for performing Stephen Sondheim and Edward Albee. She has since maintained her fame as Jack Donaghy's mother, Colleen, in the NBC comedy series 30 Rock. During her recent interview with PrideSource, the 89-year-old performer said that she's just becoming aware of her gay fandom.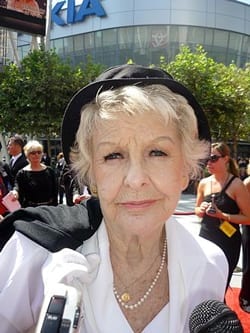 The article reads:
A Broadway legend has to be aware the community thinks she's an icon, but no, not Stritch. "I'm just becoming aware of it," she admits, but why now? "By articles such as this one. I really have become very much aware, first of all, what great audiences they are. And it isn't that I finally discovered that gay people understand me and straight people don't – oh, no no no. Not a word of truth in that. I can't tell you how many straight people I know that think I am the cat's pajamas."
But not knowing you have a gay following until now, 70 years into your career … a career in one of the gayest professions pursuable: the theater? Stritch is as surprised as you are.
"It sounds like I've lost my mind, but I feel like I'm becoming aware of it."
The respect she has for (her friend, playwright Edward Albee) is just immense, she says, but that fondness also extends to the other gay men in her life, near and far. It's their sense of humor she savors. 
"I gotta get in that line, because I think gay people have extraordinary humor. Extraordinary! I'm talking deep, deep, deep humor. Deep humor that goes way below the [typical things]."
She goes onto say that she developed an intense platonic relationship in the late 1950s with Rock Hudson, something that many people assumed was a physical affair. Stritch responded:
"Did we have an affair? No," she clarifies. "He was nuts about me, and I felt it, knew it. And I was madly in love with this gorgeous guy. But I couldn't have reacted in any real way because I don't think he was truly in love with me. I think he just loved me and loved that we had fun and loved to be with me."
Hudson, she says, dedicated all his off-set time to her, never to anyone else working on the film.
"Anybody that dates you all the time, wants to be with you all the time, takes you out everywhere – he had a good time with me. You know what I'm talking about. And there's nobody who says that gay guys don't have fun with women, because they do!"
Stritch recently appeared in her own docutmentary entitled "Elaine Stritch: Shoot Me" and recently dropped an F-bomb on The Today Show.