Approximately 300 gay couples married in Michigan on Saturday, one day after a federal judge struck down the state's ban on gay marriage. On Sunday, the Sixth Court Circuit of Appeals issued a temporary stay on the marriage ruling until Wednesday when an emergency appeal could be heard.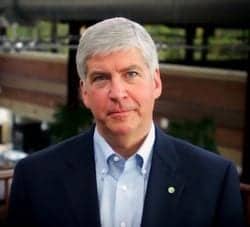 Michigan Governor Rick Snyder said late on Sunday that state agencies would wait to recognize the marriages that have been performed, the AP reports:
"We are extremely sensitive to feelings on this issue and are hoping for a swift resolution for all involved," said Sara Wurfel, spokeswoman for Gov. Rick Snyder…
…"We are not saying that we aren't or won't recognize the marriages that happened on Saturday, but that we're awaiting further court or legal direction on this complex, unusual situation," Wurfel told The Associated Press in an email Sunday.
"Either way, this can't be construed one way or another as not recognizing the validity of the same sex marriages."
You may have missed this MICHIGAN info…
Michigan's Marriage Equality Ruling: A Summary and Analysis [tlrd]
Federal Appeals Court Suspends Gay Marriages in Michigan Until at Least Wednesday [tlrd]
Here is Joyful Video of the First Gay Marriages in Michigan: WATCH [tlrd]
First Gay Couple Marries in Ingham County, Michigan: PHOTO [tlrd]
At Least Four Michigan Counties to Issue Marriage Licenses to Gay Couples Today [tlrd]
Federal Judge Strikes Down Michigan's Ban on Gay Marriage: VIDEO [tlrd)