In a recent New Yorker profile, self-proclaimed "hip-hop conservative" Lord Jamar (pictured) said that the openly gay rapper Le1f's performance on The David Letterman Show was "just the beginning" of the hijacking of hip-hop and the jettison of its essentially macho origins.
Lord Jamar has become a controversial figure for making such statements in the past. In particular The New Yorker notes:
Macklemore and Ryan Lewis have been a particular source of anger for Lord Jamar, in large part because of the success of their pro-gay-marriage single "Same Love." That song, in which Macklemore admonishes hip-hop culture for not being more tolerant of homosexuality, encapsulates everything Jamar believes is wrong with the current hip-hop landscape; it struck him, he said, as the equivalent of someone walking into a stranger's home and trying to redecorate the living room.
In September, he gave an interview on VladTV in which he addressed white rappers directly, telling them, "You are guests in the house of hip-hop… Keep it real with yourselves: you know this is a black man's thing. We started this. This is our s–t." Macklemore, Jamar said, may love hip-hop, and some of his songs might even be pretty good. "But he's trying to push an agenda that he, as a white man, feels is acceptable," he added. "Those proclivities and sensibilities are not at the core of true hip-hop."
In regards to artists like Le1f and Kanye West ruining hip-hop with their flamboyant styles and lyrical content, Jamar said:
"You can't just arrogantly wear whatever the f–k you want to wear on some 'self-expression' bulls–t… in order to preserve a culture there are certain guidelines and boundaries that have to be there… [Hip-hop] started with the alpha males. And now it's being given to the beta males to try to flex their s–t.
"I have no problems with pushing boundaries… But everything has its limits. How far do you go with this pushing of boundaries before you've turned it into something else? That's what I want to know. How much water can you add into the whiskey before you no longer get drunk?"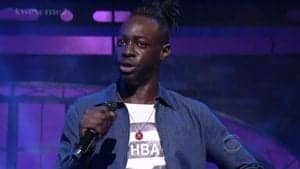 In response to Lord Jamar's comments in The New Yorker profile, Le1f wrote on his Facebook wall:
dear Lord Jamar,
Choose your battles. If the whitening of rap is a concern to you, please leave my name out of it. If you think being gay is the same as being white, you are as ignorant as your enemies. I'm darker than you. I'm african. I'm a black man and I experience all the same racism you do, if not more, on top of homophobia, including from black men just like you. Are you proud of being a hateful member of a majority? Rap started out as a creative response to oppression, and no matter my outfit, I know oppressions you will never understand.
All respect,
Le1f
In the past, Le1f told Newsweek that he does his best not to focus on other people's expectations for his music:
"At this point where I've gotten so much pressure, like ridiculous stuff, I don't care…The headlines and things I've gotten for some real serious press. At this point I know that I'm making the music I want to make regardless of how people talk about my music on the Internet. I don't feel pressure to make anything because of how people talk about me."