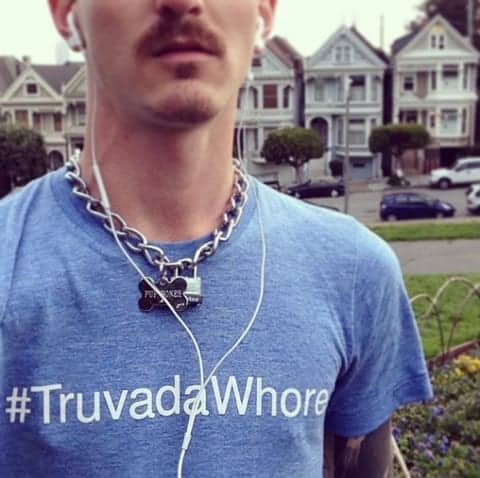 Adam Zebowski, an HIV test counselor at the San Francisco AIDS Foundation, is selling #TruvadaWhore t-shirts at a Kickstarter-style site to help meet his AIDS/Lifecycle fundraising goal of $3000.
The term "Truvada whore" refers to the disparaging label given to men who take pre-exposure prophylactic drugs like Truvada to protect themselves from HIV; the idea being that people who Truvada are whores who just want to have condomless sex without the consequence of HIV.
On his t-shirt site, Zebowski says:
Be proud, you #TruvadaWhore. I support the #reappropriation of derogatory terms. I am against slut-shaming. I am pro health and wellness. I think PrEP is a great HIV prevention tool if it works for you. I am a #TruvadaWhore. $3.40 of each shirt will be donated on my behalf to my AIDS/Lifecycle fundraising goal of $3000.
The AIDS/Lifecycle is a 7-day, 545-mile bike ride from San Francisco to Los Angeles to raise money and awareness in the fight against HIV/AIDS.
Previous Towleroad coverage of PrEP can be found here, here, here, and here. 
(via Joe.My.God.)